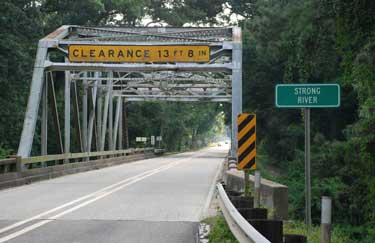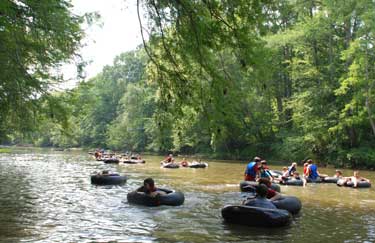 "There are so many worlds to explore..." and the camping world is the best! When we sit around the campfire and I listen to the campers sing this song, I cannot help but reflect on all my years of camping - at Kittiwake - Rockbrook - Montreat , first as a camper, then counselor, head counselor, and then director. All my life I have wanted my own camp and in 1973 when we heard the YMCA camp on Strong River was for sale, I was thrilled to find it such a perfect place for camping. As a matter of fact, I fell in love with it!
My own children had been to camp each summer and were ready to help me develop my own camp philosophy. Julie was at Vanderbilt, Guy T. at Harvard, and Sarah Dabney and Gordon in Junior High at home. My husband Guy was extremely busy with his medical practice in Jackson and was delighted for me to have this opportunity to develop my own camp.
Camp would be a paradise for children, a place where you could relax and not be "bossed" around by staff, where you could choose what you wanted to do, and do it with the best leadership possible - a place where you could learn a sport but the fun of doing it was most important - a place like a visit to grandparents in the country in older days - a place with old-fashioned values - where you don't kill anything (mosquitoes excepted), where you watch spiders make webs, let frogs go free, don't worry about what time it is, enjoy an early morning bird walk - being at home with nature and not being afraid of animals - where you can learn what a vegetable garden is like, eating lots of fresh vegetables and fruit and hot biscuits, forgetting about television, radios, and "soda pop" - a place where you learn to be a friend, and find miraculously that by being a friend you have friends - a place where you don't fight and where the only jokes you pull are on yourself - where you discover your talents and gain confidence in yourself - a place where there are so many things to do and so many people to be with that there's always a choice.
We wanted a camp with campers from many places and now they come from 20 states and from over 70 towns in Mississippi. The counselors come from all over the world. Since the beginning of camp we have had counselors from Norway, Sweden, Denmark, Germany, Belgium, Holland, France, Italy, Spain, South Africa, Kazakhstan, Switzerland, Yugoslavia, Algeria, Zimbabwe, Latvia, Russia, Hungary, Rumania, Bosnia, England, Scotland, Wales, Ireland, Australia, New Zealand, Colombia, Brazil, Paraguay, and Singapore as well as from the United States. The staff is chosen carefully. The number one requirement is to love children.
What an interesting atmosphere it makes to see all of this come together in one place and to know this little piece of land near Pinola, Mississippi, is now loved by over 20,000 campers and staff. What Strong River has to offer is good memories, and so in the winter when we sit by the fire and think of camp days, we know the value of Strong River. We like the philosophy. We believe in what it does. It is a feeling that cannot be given to you - you have to experience it for yourself.
This...is...Strong River.....